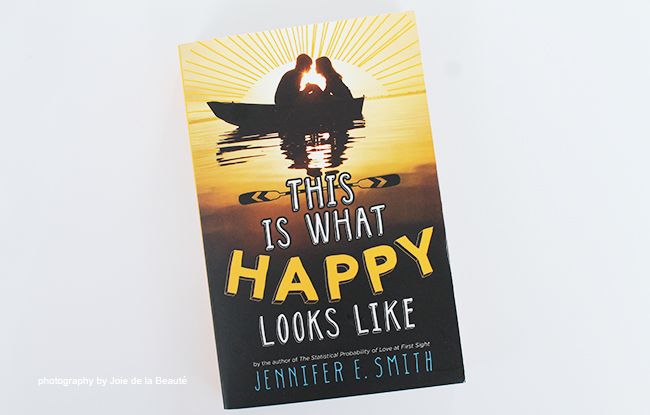 "
If fate sent you an email, would you answer?
When teenage movie star Graham Larkin accidentally sends small town girl Ellie O'Neill an email about his pet pig, the two seventeen-year-olds strike up a witty and unforgettable correspondence, discussing everything under the sun, except for their names or backgrounds.
Then Graham finds out that Ellie's Maine hometown is the perfect location for his latest film, and he decides to take their relationship from online to in-person. But can a star as famous as Graham really start a relationship with an ordinary girl like Ellie? And why does Ellie want to avoid the media's spotlight at all costs?"
Wat vond ik van dit boek?
This is what happy looks like
is het tweede boek van Jennifer E. Smith wat ik las. Haar schrijfstijl is heel fijn: korte hoofdstukken, simpele zinnen, geen poespas. Ik vloog daarom ook door het boek heen. Het verhaal is heel schattig en romantisch, maar niet overdreven. Wel is het iets waar je van moet houden. Soms werd het boek ietwat saai, op sommige momenten was het iets te langdradig. Desalniettemin heb ik genoten van dit boek. Ik ben zeker benieuwd naar de andere boeken van deze schrijfster.
7,5